About Lola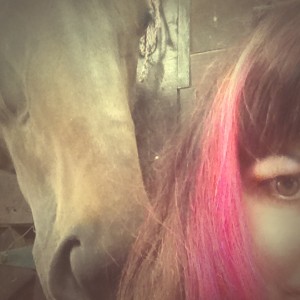 Classically trained art director and photographer with a degree in design and advertising. I've worked on national ad campaigns, was involved in corporate advertising and collateral for some of the worlds most well known companies. I switched my focus to boudoir photography and portraits over a decade ago and hung out my photography shingle which has always been my passion. I'm a published and collected erotic photographer and have been privileged to shoot some of the most amazing and beautiful women in intimate settings.
I relocated to Maryland the horse capital of the USA from Los Angeles in 2011 and shortly thereafter got back into horses after a very long break. I began to shoot the local horse shows and found I excelled at shooting journalistic style photos of all the action. My favorite way to shoot equestrian imagery, is to capture you at a horse show from tacking up, to performing a test or out on the cross country course. The connection and trust between photographer and subject is very much like the connection of trust between you and your horse and its my goal to make sure we foster and grow that connection and trust so that we can create incredible images.
Combining my love of horses with my work in portraiture it was a natural fit to branch out in to horse and rider portraiture. Because of my background in boudoir and glamor photography I know how to make you and your beloved for legged partner look amazing.  I know how to show you both off at your best and create images you will treasure for a lifetime.
I grew up riding hunt seat equitation and after college gave up horses to focus on my advertising and design career. After moving out of California almost a decade ago I got back into horses and have acquired four horses and a taste for eventing and dressage. I now have three ex-race horse mares and one imported warmblood gelding. I live in Carroll County Maryland on my own farm and keep my horses at home with my three dogs, two cats and twenty-four chickens. My husband is a very patient man.
I shoot with all Canon® Equipment but have been known to break out the Lomo on occasion when you're not looking.
Thanks for reading!
Lola Cake
Save
Save
Save
Save
Save
Save
Save